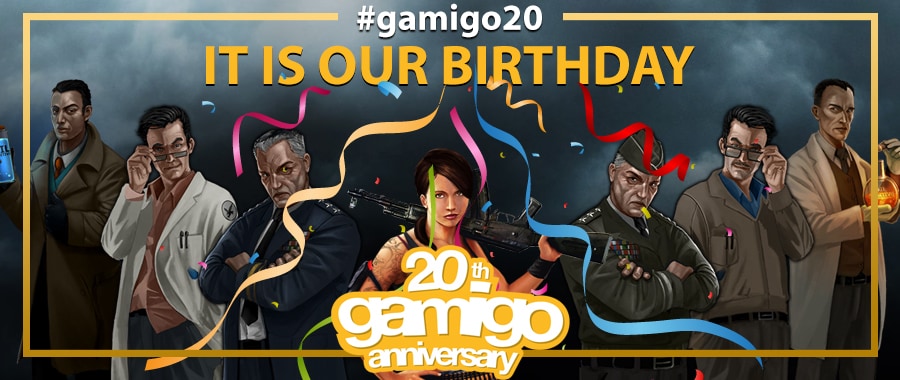 Dear Player,
The results of the gamigo 20th Anniversary are finally in!
Due to privacy and security issues, we can only display the nick names of the top 10.
Each oh these players, participated in the anniversary raffle: ☠HYDE☠ won the hardware prize sponsored by Gigabyte: A gaming set including a mouse and a keyboard + 60.000 Diamonds to be received in Desert Operations DE server.
Also, Kevinlee won a great premium prize of 30.000 Diamonds to be paid in Wargame US server. CONGRATULATIONS! To claim their prizes, winners should contact us via Customer Support ticket and provide their complete name and address.
Top 10 Desert Operations:
free_of_death Points: 57194
tonybs2 Points: 24500
☠HYDE☠ Points: 21111
roro2004 Points: 21000
Magneto Points: 19000
ghostbin Points: 15762
TASL Points: 15500
Pensavaquefossefuteb Points: 14000
BADACTOR Points: 14000
troll13 Points: 13500
Top 10 Wargame 1942:
saeed13710 Points: 50000
محــــمد الفـــــاتح Points: 31500
Kaa-san Points: 29666
sslok Points: 27000
konschina Points: 17833
Kevinlee Points: 17500
Sombra_70 Points: 16500
rorororo2004 Points: 15500
drdrm Points: 15000
HotRed11 Points: 14500
Thank you all for taking part of this amazing celebration! Congratulation to our 2 winners, you have been lucky enough to win amongst tons of players from ALL our games.
Sincerly yours,
Team DO/WG