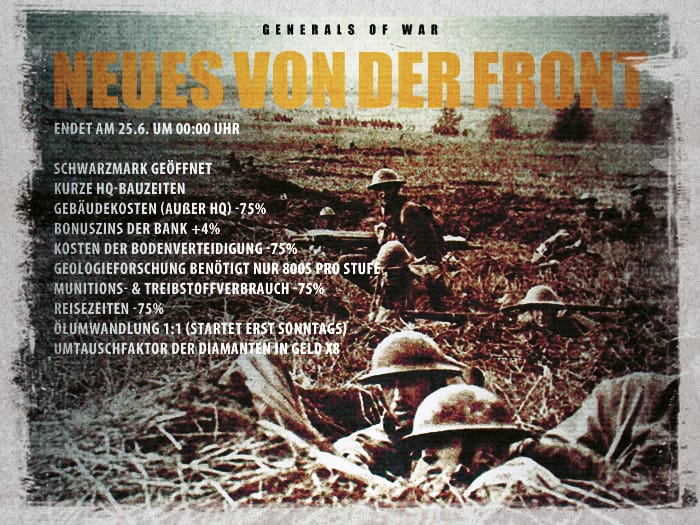 Generäle,
die Pflicht ruft! Wir sollten schnell unserer Basis weiter ausbauen, weshalb die Bauzeiten des Hauptquartiers gesenkt wurden sowie die Kosten der restlichen Gebäude. Verteidigungseinheiten können vergünstigt rekrutiert werden sowie die Reisezeiten und der Treibstoff-, wie Munitionsverbrauch verringert sind. Dank des geöffneten Schwarzmarkts und der verbesserten Ölumwandlung, welche später startet, sind wir aber auch in der Lage dem Gegner das fürchten zu lernen. Profitieren könnt ihr aber auch von dem erhöhten Bankzins und dem verbesserten Umtauschfaktor von Diamanten in Geld. Zur verkürzten Geologie Forschung gesellt sich natürlich noch euer Wunschevent.
Wir wünschen euch viel Spaß bei diesem Event!
Euer Generals of War-Team
Werdet Teil des offiziellen Generals of War Facebook-Kanals und verpasst keine Neuigkeiten oder Events!