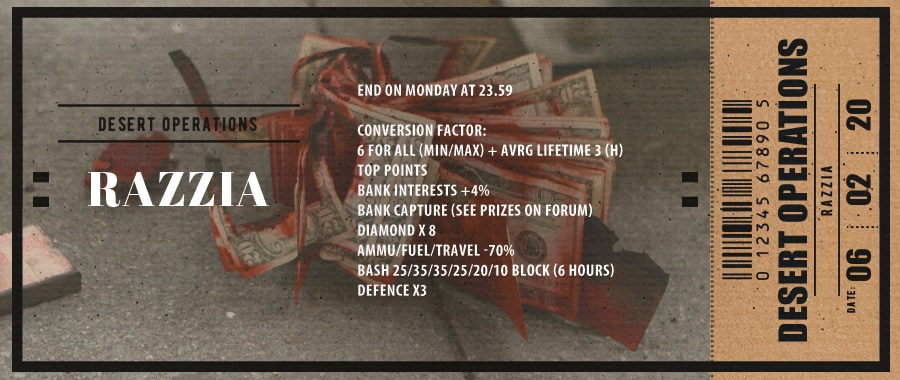 The event will last from the 6th of February @ 6pm until Monday the 10th @ 23:59;
The 5 players from each front (BK excluded) to collect the most Bank buildings during the event timeframe will be rewarded;
A lock during the event automatically excludes its beneficiary from any participation -- so does the use of the Holiday Mode;
An irregularity detected during the duration of the event once it is over, automatically excludes its author;
The support reserves the right to exclude from the participation any player who demonstrates a non respect of the rules or the EUAs ;
Rewards are not transferable nor exchangeable and are only offered and credited in the game's virtual currency: diamonds;
The participation does not give right to any legal claim;
Participation is not mandatory and only requires a Desert-Operations account active;
The winners will be quoted after the event in Forum and / or DO News: by participating, you agree that your nickname be used for this purpose;
You can participate in as many worlds as you want to put more chances on your side, but you can only earn one reward: the reward will be paid only where it was won; if you win on two servers, you can choose which of the two you want to see rewarded.
The rewards are as follows:
1st Place: 5000 Diamonds

2nd Place: 2500 Diamonds

3rd Place: 1200 Diamonds

4th Place: 700 Diamonds

5th Place: 500 Diamonds



As always, may the best take all. Rewards/results to be released next week. For all inquiries, contact your support directly.