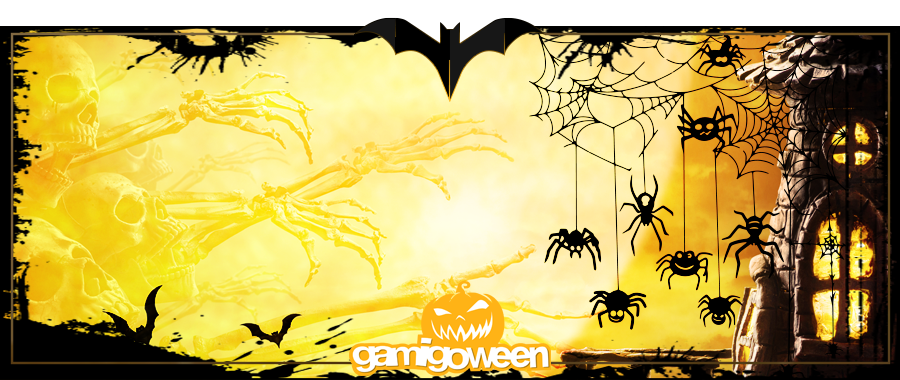 gamigoween Challenge – Thursday Oct. 28th 2PM Local / Monday Nov. 8th 23:59 Local (Included)
Commander,
We have prepared an special spooky gamigoween challenge for you! Scape from death or make it your best friend, the choice is yours!

Want to know more? Here are the details:

gamigoween Challenge
Back from the Dead
Thursday Oct 28th 2PM Local / Monday Nov. 1st 23:59 Local (Included)
Combat Highscore Progress

Back to the Dead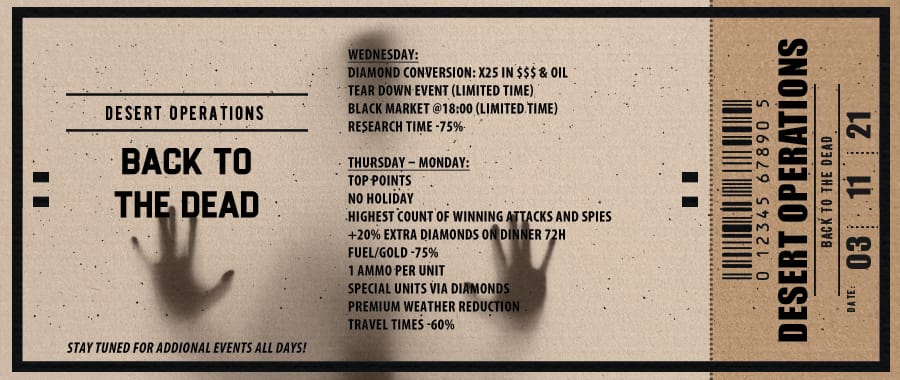 Thursday Oct. 4th 2PM Local / Monday Nov. 8th 23:59 Local (Included)
Highes Count of Spy and Attack

Rewards

For each of the two parts of the challenge the winners will receive:
| | | |
| --- | --- | --- |
| Rank | Points | Diamonds |
| 1 | 3 | 25.000 |
| 2 | 2 | 15.000 |
| 3 | 1 | 5.500 |
Local winners (one per GEO):
the Top 3 players (players with most points) of a GEO receives:
| | |
| --- | --- |
| Rank | Diamonds |
| 1 | 100.000 |
| 2 | 50.000 |
| 3 | 25.000 |
Disclaimer

Support reserves the right to exclude any player for any irregularity, without notice and without any right to dispute nor compensation;
The use of the holiday mode during the last 48 hours of any individual or bonus challenge, automatically disqualifies the participant from that individual challenge.
Any sanction received during the full time period of the global challenge automatically disqualifies the participant from all 2 individual challenges and the local one, as well as coming out of a temporary lock after the initial challenge began or being sanctioned after it ended and before the final results are published;
In the event of an irregularity, support can revoke credited rewards!
Participation is free and not mandatory and only requires a game account. By participating you have agreed that your nickname is mentioned as a participant and/or a potential winner. Prizes are only in the game virtual currency: diamonds and in game resources (LP - loyalty points);
Listed winners are not entitled to additional gains or compensation than those listed. Prizes can only be rewarded in the one world where they were won;
Prizes cannot be exchanged nor transferred and participation and/or selection does not entitle to additional benefits nor compensation;
We reserve the right to terminate the contest before its end for good cause. Such a termination shall be deemed to have occurred in particular if, for technical, organizational or legal reasons, the proper performance of the contest cannot be guaranteed.
The specific rules and content for each challenge will be made public with the launch of the weekend event on the days mentioned above.
You are allowed to participate in as many worlds as you play. However, the final price of the global challenge will only count your performance and results obtained in the same server. In addition, a player can only receive one reward per challenge and one world prize even if he has won in several worlds. E.g. winning 3 points in world A and 2 points in world B does not equal winning 5 points.
In case of a tie in the end results (Local winners), the winner will be decided by Support team based in the results from the individual challenges. (For example: Battles won, Highscore progress points and/or banks captured) The decision will be final.
For any question and/or concern, send a ticket to your support team that will answer all your doubts.